If you enjoy the outdoors our York Outfitters Outdoor Adventure Guide School is for you.
Whether as a learning experience to become a better hunter or a dream career as a guide/outfitter. We can make it happen for you!
Our 24 day course consists of Wilderness survival, basic horsemanship,standard first aid, outdoor recreation, conservation, responsibilities of an outfitter and guide, professional guide equipment usage, big game guiding techniques, and field care of game.
Get our printer friendly brochure that explains our Idaho Outdoor Adventure Guide School
What Is A Guide School?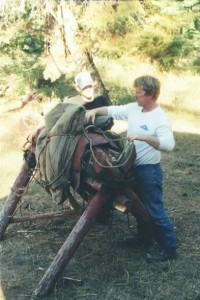 A guide school is for anyone who enjoys the great outdoors. The course is available for all age groups and will give good hands-on experience for the student. As a student you will be taught:
Wilderness Survival
Basic Horsemanship
Orienteering
Outdoor Recreation
Outdoor and Camp Cooking
Conservation
Responsibilities of and Outfitter & Guide
Professional Guide Equipment Usage
Packing Equipment & Supply Usage
Big Game Guiding Techniques
Big Game Scoring
Field Care of Game
Packing
Advanced Riding Lessons and Trail Rides
Horse/Mule training
Packing with Mules

Decker Pack Saddles
Sawbuck Saddles

Leading a Pack String
Horse/Mule First Aid
Basic Horse Shoeing
Wilderness Survival
Safety and Prevention
Hypothermia
Emergency Procedures
Emergency Shelter and Fire Starting
Professional Guide Equipment
Personal
Field
Vehicles/Tack
Weapons
Basic Horsemanship
Introductory Riding Lesson
Saddles and Equipment
Horse Care
Horse and Mule Behavior
Trailer Loading
Safety
Wilderness Guide School
August
$2,500.00 / Student
24 days of schooling
August 14 – Sept 6
Job Placement Assistance is offered for successful graduates.
This schooling is for any outdoor enthusiast who is looking for the learning experience to become a great hunter or work in the field of outfitting. Our school is hands on and physically rewarding.
Camp Cooking
Cooking on Camp Fires
Dutch Oven Cooking
Menus
Safe Storage of Food